April Gallart, UN Mission Coordinator at United Families International will speak at the Strengthening Families and Communities Forum, which is part of the Peaceful Families; Peaceful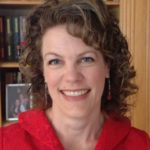 World workshop on May 29th, 2022 in Harpers Ferry WV.  She will give her presentation via online conferencing.
April has extensive experience in her work lobbying for family issues at the United Nations.  She has keen insight into how almost every United Nations resolution dealing with family issues ends up revolving around promoting abortion or Comprehensive Sex Education.
As the battle lines have been drawn, so to speak, April will give us insight into how to promote a Culture where Sexual Abstinence before Marriage is the Standard.
The Peaceful Families; Peaceful World workshop also includes a Parent and Presenter Abstinence-Centered Curriculum training on March 18th, 2022, as well as a Unification Principle training.
Michael Marshal, editor emeritus of United Press International, Stephanie Mann, founder of Safe Kids Now! and Richard Urban, co-founder of Urban Life Training are also featured speakers on March 20th.
The overall them of the Strengthening Families and Communities is "protective  effect for children of true parents".
Find out more and register here.